Tina Chow was an American model, couture collector and jewellery designer who was considered an influential fashion icon of the 1970s and 1980s.
Born Bettina Louise Lutz (April 18, 1950 – January 24, 1992) Tina Chow represented the new diversity and universalism of modern beauty, but her fashion intelligence was even greater than her beauty. One of the most important collectors of couture clothing, Tina Chow knew the great designers of her time but demonstrated her interest in the past by choosing works of Madeleine Vionnet, Cristóbal Balenciaga and Christian Dior for her astute collection.
Her initial collecting interest was Mariano Fortuny, whose 'Delphos' dresses, capes, and shawls were a fusion interpretation of East and West. Her collection of Fortuny gowns and coatswas unparalleled outside a museum, including both Delphos pleated dresses and fabulous printed Knossos Shawls. When her husband bought her a tattered, jewel-pink pleated gown by Mariano Fortuny, she enjoyed taking it apart to see how it was made and restoring it. Doing this with other items of vintage clothing, especially her Fortuny collection, became a passion. She owned 17-18 original pieces, between Delphos Dresses and Knossos Shawls, and she cared about them. It is said that she would go to parties wearing one of her precious plissé dresses and would only stand up and don't even eat. That's how much she cared!
Her couture collection was sold in 1993 by Christie's in New York.
Tina Chow Eurasian beauty and androgynous style had a major impact and helped redefine approaches to fashion and modelling.While still teenagers, Tina and her sister were discovered by a modelling agent and became the faces of Japanese cosmetic line Shiseido and featured prominently in their ad campaigns from the early 1970s. During her modelling career she was photographed by Helmut Newton, Cecil Beaton and Arthur Elgort among others. She was drawn by illustrator Antonio Lopez and painted by Andy Warhol. She was also the muse of designers Yves St. Laurent and Issey Miyake.
She married Michael Chow in 1972, owner of the Chinese restaurant's chain, 12 years older than her, and the couple became leading members of the contemporary glitterati and art scene. Michael and Tina Chow were among the most famous New York celebrities, making many friends among the art scene, including Andy Warhol, Keith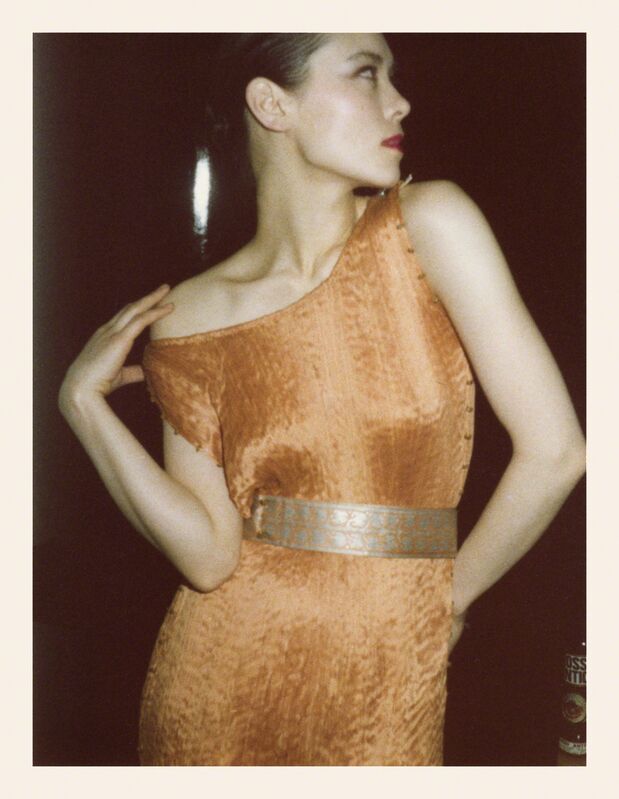 Haring, Jean-Michel Basquiat, Julian Schnabel, Mary Boone, and Henry Geldzahler.
Chow owned some of the world's most beautiful clothing and was photographed wearing it but despite her couture wardrobe, the image of her that is the most enduring is her great simplicity. She routinely paired inexpensive items with high fashion pieces and mixed feminine and masculine styles simultaneously. Chow sported a daily uniform of close-cropped black hair, almost no makeup, a white vest or t-shirt and black pants. To top it all, she would usually wear jewellery of her own design – big bangles in rock crystal, or woven bamboo. During the late 1980s, Tina Chow designed and produced several collections of jewellery. Using rock crystal, gold, silver, wood, bamboo, and silk cording.
Not only was Chow a beautiful woman and inspiring designer, but she also had a generous and philanthropic soul. She became an AIDS activist after having lost many friends to the disease. And unfortunately, she was diagnosed and died from the same disease in 1992 at the age of 41.
Nursed by her daughter China, she is said to have passed away peacefully wearing her favourite Fortuny Delphos gown.